2000bph/3000bph/4000bph Fully Automatic Stainless Steel Sealing Labeling Wrapping Packing Production Machine



Water treatment system: It refers to the measures taken to make the water quality meet certain use standards.
The physical characteristics of water, such as temperature, color, transparency, odor and taste, are filtered or treated
so that water can be used directly for drinking or other purposes.

Raw water pump: connect to raw water,we supplier the best supplier Nanfang pump or Grundfos pump.
Silica sand filter: Silica sand as a filter medium can intercept and remove suspended matter effectively, organic
matter, colloidal particles, microorganisms, chlorine, odor and some heavy metal ions in water under certain pressure,
so as to reduce water turbidity.
Active carbon filter: It can filter chlorine content in water: <0.1PPM, and has significant effect on odor, organic matter,
colloid and iron in water. It can also reduce turbidity, chroma of water, purify water quality and reduce pollution to follow-up
systems (reverse osmosis, ultrafiltration, ion exchanger).
Sodium ion exchanger:Sodium ion exchanger (softener) is used to remove calcium and magnesium ions from water.
When calcium and magnesium ions in water are exchanged by sodium ion, carbonate scale and sulfate scale are not
easily formed in water, thus softening water can be obtained.
Precision filter: Precision filter adopts PP filter membranes which has high filtering precision, less than 0.1um particles,
strong ability of intercepting pollution and long service life.
Reverse osmosis:it is composed of reverse osmosis membrane (RO), high pressure pump and washing system to
protect the reverse osmosis membrane. It can intercept substances larger than 0.0001 micron. It is the finest water filter.
It can effectively intercept all dissolved salts and organic substances with molecular weight greater than 100, and allow
water molecules to pass through.
Hollow Fiber ultrafiltration: Ultrafiltration technology is a new technology widely used in water purification, solution
separation, concentration, and extraction of useful substances from wastewater, wastewater purification and reuse.
The separation process can be carried out at room temperature. It is suitable for the concentration or purification of some
heat-sensitive substances such as juice, biological agents and some drugs. It has a wide range of applications. The size
of Dalton or solute is 0.0. Ultrafiltration separation technology can be used in the range of 01-0.1 um.
UV: After the RO system, the bacteria in the water are eliminated by using the UV sterilizing lamp.
Ozone generator:Ozone is a widely recognized high-efficiency disinfectant in the world. Chemical property is particularly
active, is a strong oxidant, at a certain concentration can quickly kill bacteria in water and air.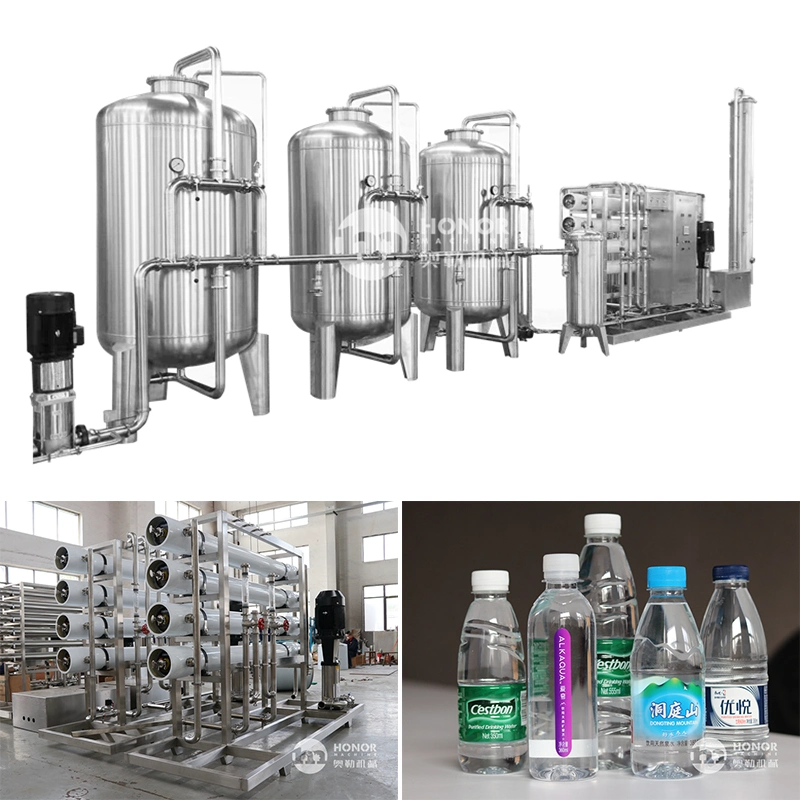 Washing filling capping 3-in-1: This machine is mainly used for the filling of pure water, mineral water and other
non-gas and sugar-free beverages in plastic bottles. It is an integrated equipment for washing, filling and sealing.
it adopts hanging type air conveyor to make change bottle model more convenient, faster and cleaner. the main
machine adopts advanced PLC control technology, the key electric elements adopt international famous products
or according to customer's customized.
Technical features:
1)It is adopted that direct connection between air conveyor and inlet starwheel instead of screw and conveyor chains,
which is easier for bottle changing.
2)There is no need to adjust the height of equipment through neck holding tech for bottle transportation.And what is
only to change some spare parts.
3)High speed filling line is of clamp transferring technology.Bottle shapes are more varied, and the working table inside
the machine is more laconic.
4)By 3-in-1 monoblock, the bottle goes through rinsing, filling and capping with little abrasion, and the transferring is
stable, bottle changing is easier.
5)Specially designed stainless steel bottle clamp dose not contact the thread parts of the bottle neck, avoiding the
second contamination.
6)High speed and large flow filling valve assures the high filling speed and exact fluid level.
7)Parts contact with the liquid are all of excellent stainless steel or food level plastic.The electric system is of
international brand and achieves the national food sanitary standard.
8)The bottle-out starwheel is of screwdown shape.When bottle size is changed, there is no need to adjust the
transferring chain's height.
Main parts list:
Item

Parts Name

Brand

Brand

1

PLC

SIEMENS

Germany

2

Inverter

3

Touch Screen

4

Switch

5

Contactor

6

Relayer

7

Solenoid Valve

AIRTAC

Taiwan

8

Drive motor

FEITUO

Swiss

9

Reducer

CNP

China

10

Water Pump

SKF

China

11

Main Bearing

AUTONICS

Sweden

12

Sensor

AIRTAC

Korea

13

Air component

ABB

Taiwan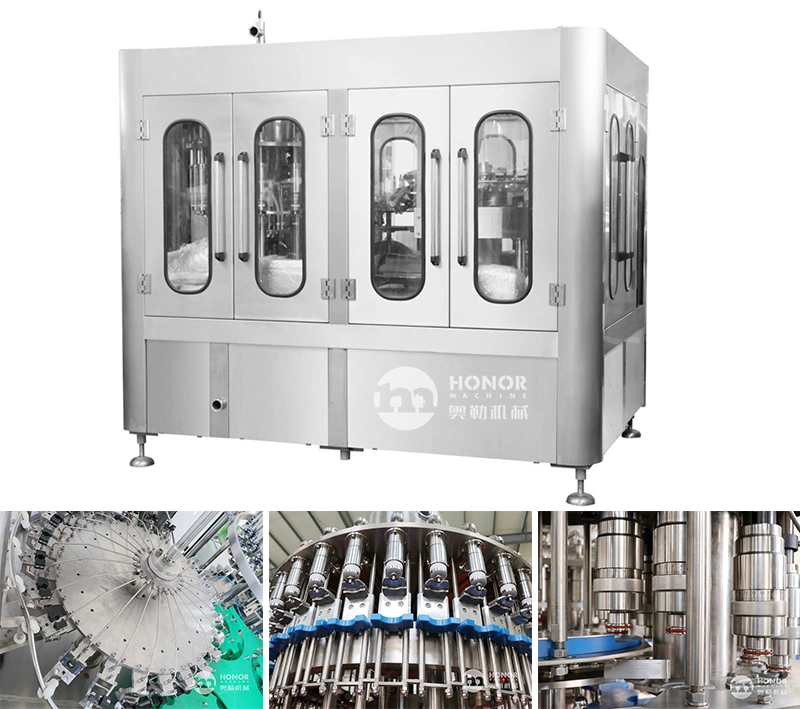 Automatic sleeve labeling machine: It is suitable for all kinds of drinks, such as fruit juice, tea beverage, dairy products,
pure water, beer, sports drinks and other food and beverage industries. It not only has high accuracy of labeling position,
but also can highlight bottles and perfect bottle-shaped after shrinkage.
Characteristic:
1. It is suitable for all kinds of drinks, such as fruit juice, tea beverage, dairy products, pure water, beer, sports drinks and
other food and beverage industries. It not only has high accuracy of labeling position, but also can highlight bottles and
perfect bottle-shaped after shrinkage.
2. Highly stable mechanical structure,The whole machine adopts stainless steel protective frame cover and aluminum alloy
rigid frame, which is stable and rust-free.
3. Flexible choice of all kinds of bottle type: round bottle, square bottle, elliptical bottle etc. can also choose the bottle mouth
or body.
4. Unique synchronous cutter holder, within the scope of specifications, no replacement cutter holder. If the specifications
need to be changed, it can be completed quickly in 5 minutes.
5. The shape is exquisite and beautiful, the overall structure is strong, and the use is more lightweight and flexible.
6. Exclusively designed reciprocating cutter, which adopts rigid body combination of mechanism, can operate smoothly and
prolong tool life by twice.
7. Simple central pillar positioning, easy to change specifications, easy to operate, easy to understand, easy to learn, completely
avoiding the user's troubles.
8. The structure of this machine is simple and generous, which can ensure low failure rate and simple maintenance.
9. The whole series of security main body safety protection frame is really intimate design.
Main parts list:
| | | | |
| --- | --- | --- | --- |
| No | Name | Brand | Manufacturer |
| 1 | SUS304 stainless steel | | South Korea |
| 2 | motor | TWT | Taiwan |
| 3 | Bearing | NSK MNB EZO IJK | Japan |
| 4 | stepper motor | Tamagawa | Japan |
| 5 | Stepping Driver | Ertl | Taiwan |
| 6 | PLC controller | Omron | Japan |
| 7 | Inverter | Delta | Taiwan |
| 8 | touch-screen | Weview | Taiwan |
| 9 | Contactor | Schneider | French |
| 10 | Sensor | SUNX | Japan |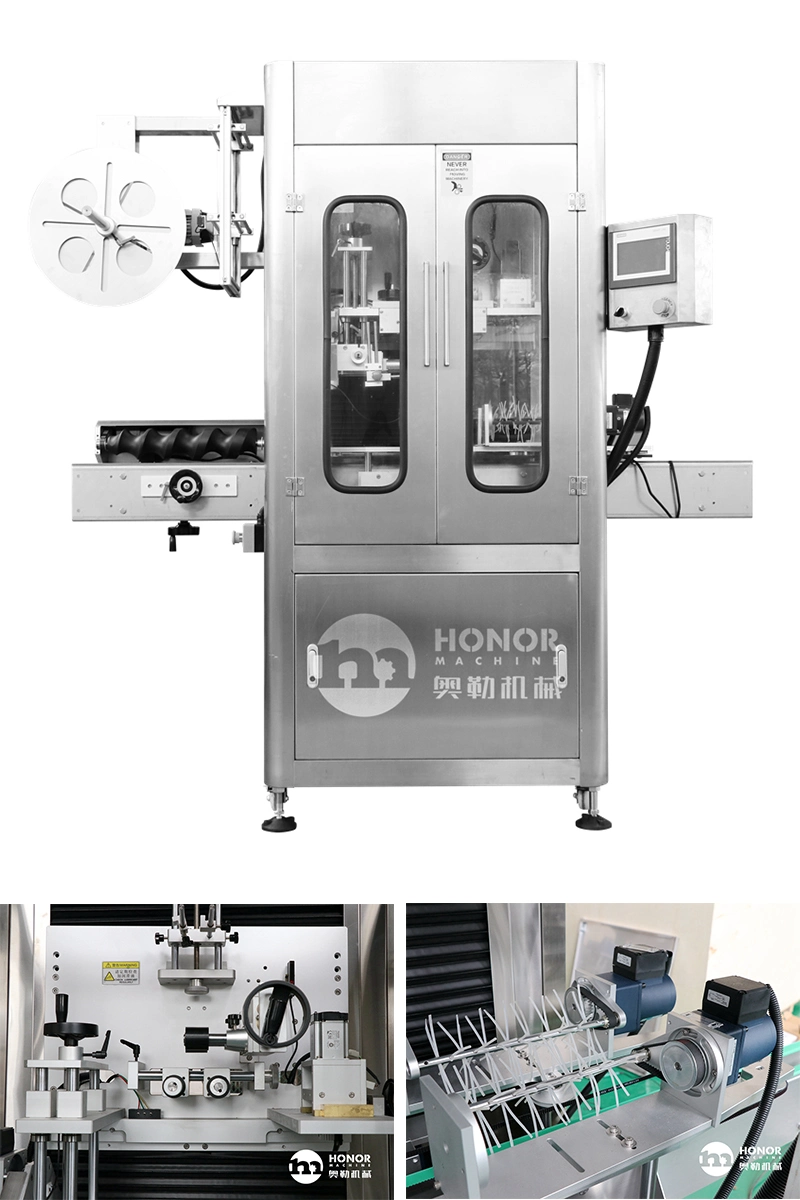 Automatic shrink wrapping packing machine: Specially designed for beverages, pure water, fruit juice, wine and
other drinks. With full automatic functions of bottle transfer and arrange, film wrapping, sealing and cutting, shrinkage,
cooling and other qualities. It adopts the world's advanced film thermostatic sealing technology, and the sealing is firmly
cleaned. The PLC program is used for automatic circulation control, and the performance is stable and reliable. Three-layer
heat insulation, good heat preservation performance, fast heating, energy saving.
Advantages:
·Frequency control,Secondary bottle transport device.
·The whole set which are push bottle,heat sealing cutting adopt pneumatic structure.
·Inductive switch control film length.
·Touch screen,PLC control system advanced reliability of the equipemtn function.
·Circular wind machine ,resuare well-proportioned temperature of the shrink furnace.
·Strong cooling system can reassure finalize the design quickly.
·Heat-fast Teflon transport net,transport steady,high strength and stand wear and tear.
·Frequency conversion timing net transportation structure.
·The height of the conveyer belt can be made according to the user,adustable range±50mm
·Bottle transport machine can satisfy the direction of the user,it can prolong and shorten
·Pterygoid stainless iron heating system,durability.
·Satisfy the bear storage rack device of the short duration for the product,assure consecutive work for the production line.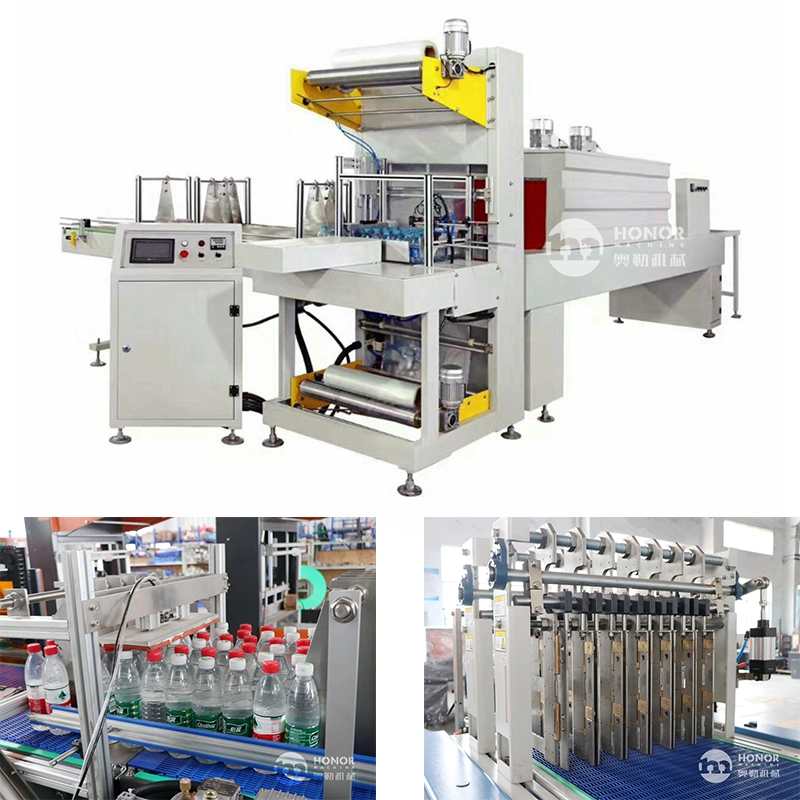 Bottle blowing machine:It is a kind of equipment which can make plastic granules into hollow containers by blow
molding process. It is mainly used in beverage and food industry.
Features of main body:
1). Stable performance with advanced PLC.
2). Automatic preform conveyer to save human cost.
3). Preform self-rotation and infrared pre-heater revolution assure the even distribution of heat, which improve the
bottle shaping rate, increase the production.
4). High adjusting performance to enable preheat the preforms perfectly by adjust the voltage control area in the PLC,
which could adjust the temperature of the infrared lights in the pre-heater, and keep the proper temperature and humidity
invariable.
5). High safeties with security automatic-locking device in each mechanical action, which will make the production into
a perfect safe environment, in case of the breakdown in certain procedure.
6). Introduce the FESTO air cylinder to avoid contamination and noise.
7). Satisfaction with different atmospheric pressure for blowing and mechanical action by dividing the blowing and
action into three parts in the air pressure diagram of the machine.
8). Strong clamping force with high pressure and double crank links to lock the mould.
9). Two ways of operating: automatic and manual.
10). Low cost,high efficiency,easy operation and maintenance etc, profited from the fully automatic technological process.
12). Ideal cooling system make the finished bottles without any flaws.

Model

CGF8-8-3

CGF14-12-5

CGF18-18-6

CGF24-24-8

CGF32-32-10

CGF40-40-10

Capacity(500ml/bottle/h

1000-2000

2000-4000

4000-8000

8000-12000

12000-15000

15000-18000

Suitable bottle shape

Round bottle or square bottle

Bottle diameter(mm)

¢49-¢116

Bottle height(mm)

160-320

Compressed air pressure(MPa)

0.2-0.8

Washing medium

Pure water

Washing water pressure(MPa)

>0.06MPa
≤0.2MPa

Total power(kw)

3.8

4.5

4.8

5.5

7

8.2

Overall dimensions(mm)

2200*1600*1800

2400*1880*2000

2800*2200*2300

3050*2400*2300

3800*2600*2500

4000*3150*2500

Weight(kg)

2880

3050

4300

6400

7450

8550