Automatic Through Feed Edge Banding Machine MDF Edge Banding Machine for Door
| | |
| --- | --- |
| Model | GS602 |
| Edge thickness | 0.4-3mm |
| Panel thickness | 10-60mm |
| Panel length | >=150mm |
| Panel width | >=60mm |
| Working Pressure | 0.6Mpa |
| Feeding Speed | 12-20m/min |
| Electrical Lift | yes |
| Motor Power | 8kw |
| Weight | 900Kgs |
| Power | 380V/50~60hz |
| Overall dimensions | 4100*1000*1600mm |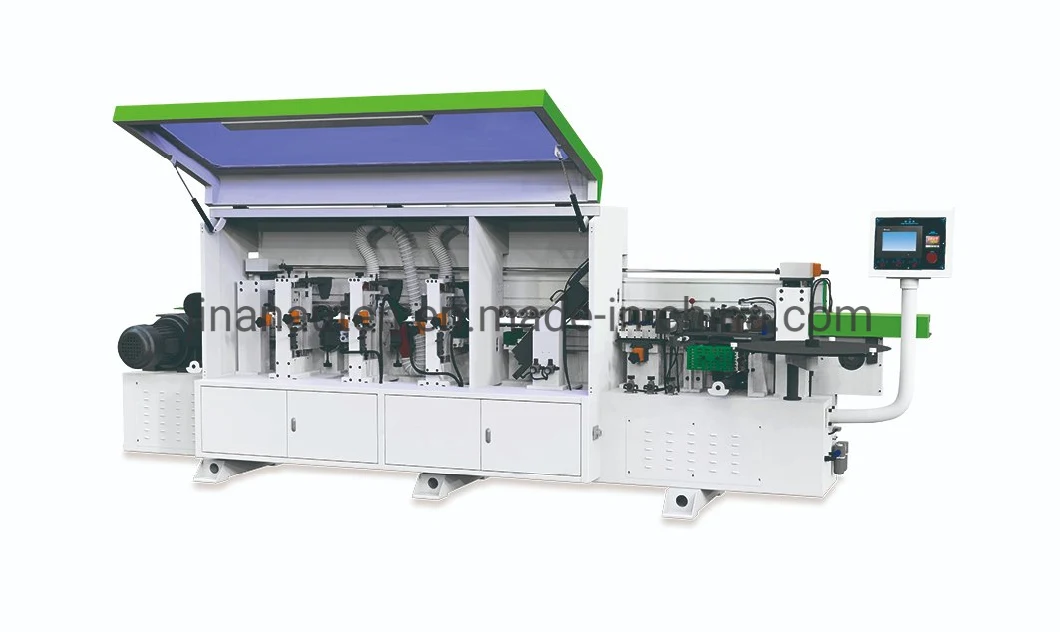 Application:
The machine is suitable for such plates: MDF, block board, solid wood board, particleboard, polymer door plates, plywood etc, straight line edging and trimming. Function: pre-milling,gluing,edge cutting,end trimming, rough trimming, fine rimming, corner trimming, scraping, buffing, slotting and so on. Edging smoothly and edging line is straight. The machine is stable, reliable and durable, with favorable price. It is especially suitable for large and medium-sized furniture manufacturers.

Features :
1.This edge bander is ideal for building an automatic production line. Stability and controlled ability are the most important factors for an equipment to be part of production line.
2.Pre-milling equipment with double trim-blades works on the waved effect that is caused by precise saw.
3.The glue mechanism adopts a special structure to gelatinize the plates and coating materials uniformly, ensure a more solid conglutination.
4.End-trimming mechanism through a precise guide track movement, adopt automatic tracking and high-frequency motor fast cutting structure to ensure the cutting surface smoothly.
5.Rough &Fine Trimming unit, with two individual high frequency motors, trim the exceeding edge on the top and bottom side of the panel, ensure the top and bottom side of the edge smooth and even.
6.Scraping unit for a perfect finishing of the applied edge.
7.The buffing device adopt the board processed by cotton polishing wheel, by end-polishing to make a more smooth surface.
8.Grooving is a optional function for edge banding machine. It's used to slot out one groove on panel to install glass, back panel etc.







Advantage:
1.Adopt domestic famous motor and high quality electrical components.
2.The fuselage is firm and steady,thus increasing the stability of the whole machine.
3.Aluminum alloy beam is a relatively advanced method, its precision and straightness are far superior to cast iron.
4.Auto cleaning, high precision, high efficiency.
5.The machine can be customized.
6.Automatic and precise gluing procedure as well integrated double finishing side within one work flow .The end cutting can be done at the rear side of the machine.
7.Multiple Air cylinder will assembled on the machine, mainly used for positioned location assured the panel materials processing accuracy in a very high level.
8.Secondary Dust Exhaust System, mainly used for sawdust collection during processing period, to keep the material smooth and clean.
9.The machine adopts the devices of sound insulation, controlling of dust, platform frame Micro adjustment by manual operation.